Looking back on 2021
It's that time of the year again to look back on another year that has passed. Almost 2 years ago already I started this journey as an entrepreneur. What a ride.
First of all, I can now say we, that's just the coolest thing! Marco de Jong and Björk Langewisch were added to the team and have already proven to be of great value. We share the same approach: think. engineer. solve. Thanks guys, this would not have been possible without you.
Never had we imagined it to take off like it did, and there are great things in the pipeline still for next year. The mix of expertise, attention to detail and a personal small-scale approach is what clients appreciate and this is what BM Process will always stand for.
Koole, GPS, LBC, JOA, Krantz, SIS, Zenith, Alkion, Worley, iTanks, Viro: names we are proud to work for and cooperate with. Thank you for the opportunities, the trust you put in us and for the great cooperation.
And last but not least, on a personal note, I want to thank 'my girls' Carine, Aimée and Valérie for all their love, patience and putting up with my business shenanigans. This would never work without you.
We look forward to 2022 with confidence and plan on leaving a real mark in the industry with our work. As always with knowledge, passion, personal attention and innovative solutions.
To all of you, we wish you and your loved ones a very merry Christmas and a truly blessed new year.
See you in 2022!
Bart, Marco, Björk.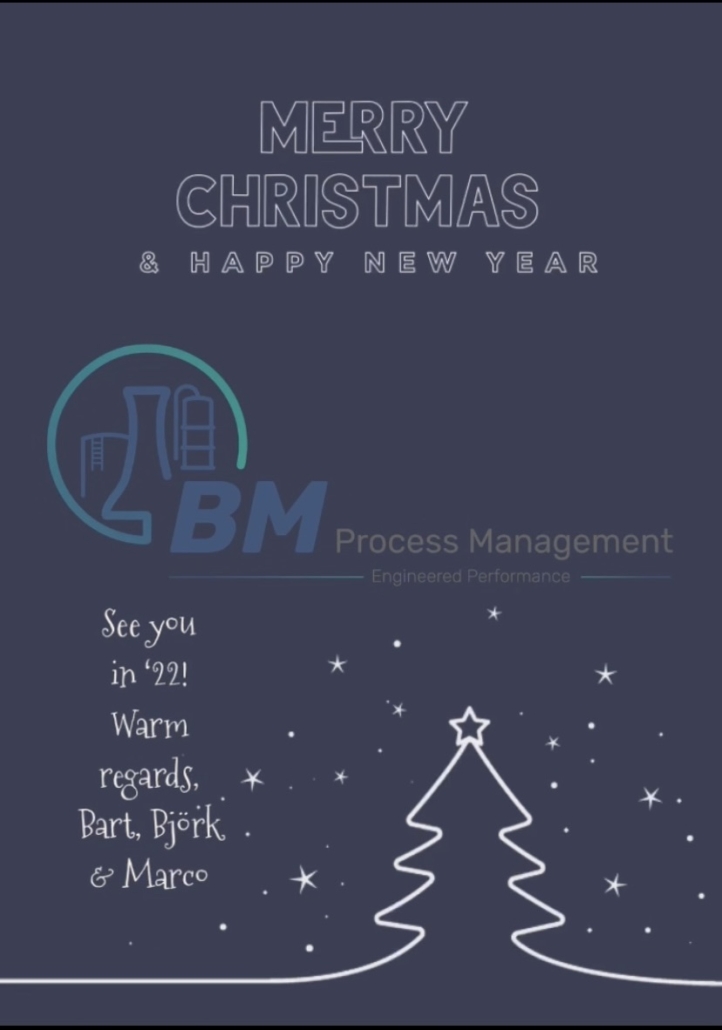 Feedback, questions or interested in a conversation?
I look forward to hearing from you. Feedback or questions on my services, website and projects are always welcome. Do you have an engineering challenge, are you looking for a consultant with whom you can have a conversation on the questions you have: do not hesitate to contact me. I will take the time for you, and do my utmost to help you with any challenge at hand. And that's a solid promise.