Partnership with smartHAZOP® – The future way of hazard analysis.
HAZOP studies are typically a process in which the risk assessment is done via tools such as spreadsheets or specific programmes. These often result in unreadable, inconsistent hazard analysis that are nowhere to be found when you most need them. Sounds familiar?
No more! Introducing smartHAZOP®: a new way of conducting HAZOP and LOPA studies for your plant.
smartHAZOP®  is an innovative software environment that enables cross-platform support to the whole team during the risk assessment. It is based around an easy to use software platform with a great user interface. It even enables you to have access to your live safety studies  via a dedicated app on your smartphone or tablet. Gone with spreadsheets and unreadable lists. In with control and ease of use.
The smartHAZOP platform is the result of colleagues entrepreneurs Geoffrey and Ron who have developed this sharing the same mindset as BM Process: because it can be done better. Just like us they started during the covid pandemic and have been inspired by the new way of working this brought along.
Ease of use: user centred
It all starts with a simple risk scenario visualisation that is easy to grasp for everyone, not only to the specialist in process hazard analysis. Finding, reading and sharing a specific sequence of risky events was never easier.
Industry specific scenarios
By using the smartHAZOP® platform it is possible to build on an ever-expanding knowledge base of scenarios that are specific to your industry. Scenarios that were captured, structured and enhanced by smartHAZOP® based on the input by many of the best assessment teams in your industry. Scenarios that were selected based specifically on your assets. Scenarios that include best practice safeguarding strategies. Scenarios that provide your assessment team with ALARP recommendations. And much more….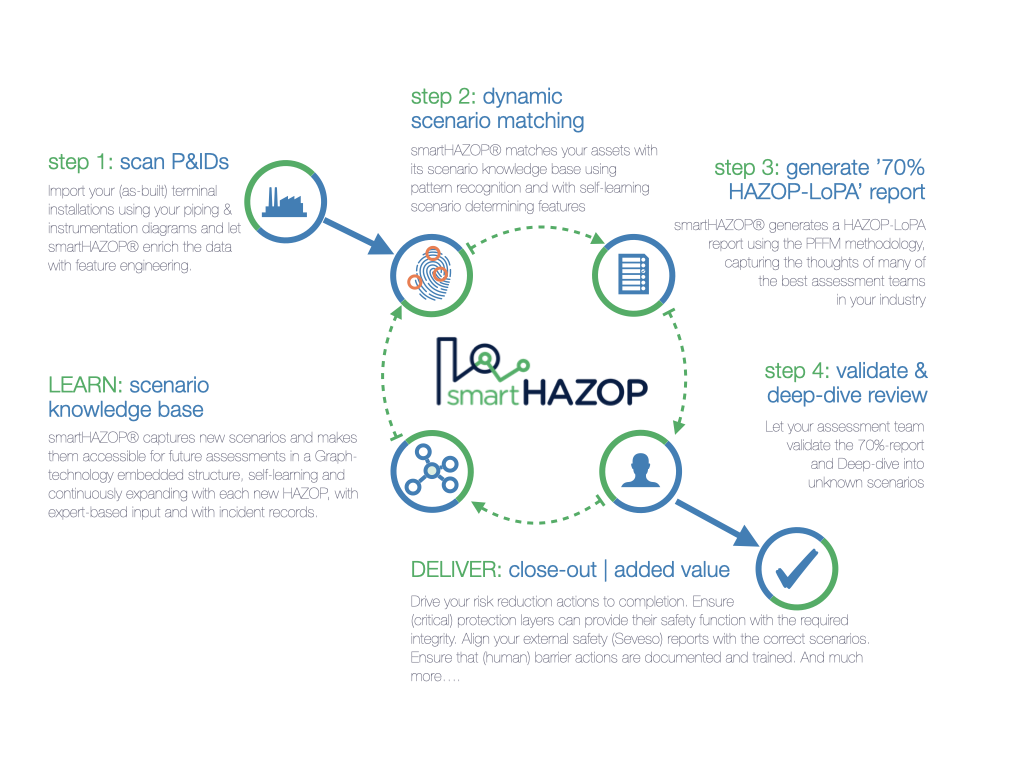 A live environment, audit proof.
smartHAZOP® is a fact-based, consistent and data driven environment that supports your teams through any Seveso major hazard control audit. No more periodic revalidation of risk assessments but a true and continuous reflection of the current risks.
smartHAZOP®  makes risk assessments easy, auditable and for everyone.
Are you ready to take your safety studies to the next level and beyond?  Let's get in touch and discuss the possibilities!
When it comes to HAZOP studies the services offered are:
Conducting HAZOP studies (chairmanship)
Closeout of HAZOP actions and documenting the measures taken
Review of existing designs with a HAZOP mindset
Review of HAZOP studies
Input during HAZOP meetings as an external expert
BM Process Management has over a decade of experience in the field of HAZOP studies as a chairman, scribe and as a subject matter expert during HAZOP meetings. We strive for maximum added value and the highest possible quality in all that we do. Therefore, BM Process is proud to cooperate with smartHAZOP®  in the field of process safety studies. This cooperation results in the highest quality and real added value for you, the customer.
Let us help you to train and develop the next level in your organisation. Strengthen  your process safety management process with our professional advice. Or let us lead-by-example by providing you with high calibre process safety professionals. Not because we outsmart you, just because you want to be challenged!
Interested to find out more? Get in touch or check out smartHAZOP by clicking on the picture above.
BM Process & smartHAZOP®. The hazop engineers.
Feedback, questions or interested in a conversation?
I look forward to hearing from you. Feedback or questions on my services, website and projects are always welcome. Do you have an engineering challenge, are you looking for a consultant with whom you can have a conversation on the questions you have: do not hesitate to contact me. I will take the time for you, and do my utmost to help you with any challenge at hand. And that's a solid promise.