Looking back on 2022
The holiday season is here again, the time in which we classically reflect on the year gone by. It is with real pride and gratitude for our magnificent team and business partners that I look back on the third year in business for BM Process.
The year started with large project for biofuel production, which in the end was unfortunately put on hold. However, we continued working on existing and new projects both in the Benelux and abroad. The fact that we have talked to quite a few new customers that were contacting BM Process based on feedback from existing customers, is just the greatest thing! I'm grateful for that and it shows our method of doing business is the right thing to do.
A few highlights of this year:
Frank Kouwenberg joined our team as a senior consultant
We received a major project for E/I revamping of a substation at a tank terminal
Several masterplans were developed for achieving reliable emission compliance in the process industry
We started working on a project for plastic waste chemical recycling
We received continued long term commitments from clients for supporting them as the owner's engineer of choice
The year was ended in a positive fashion with two highlights:
First of all a retrofit project of a vapour recovery unit for a client in Rotterdam was finished successfully after it had been delayed during the covid period several times. The unit is now up to spec for the most modern emission limits, has reduced energy consumption, higher reliability and is also prepared for a connection to a polishing technique in the future. New pumps, valves, analyser, a total new SCADA system, and much more. So another VRU bites the dust, finally! Special thanks go out to the project team that went full beast-mode on this project  (Rien, Alex, Igor, James, Marco) at the client and the guys at Luveba (Jerome, Steffen, Emmanuel) for making the plan work in real life. The results speak for themselves.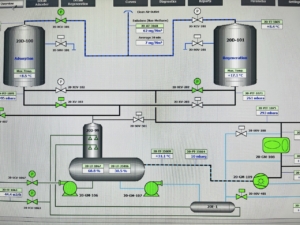 With our partner Krantz Clean Air Solutions, Jutta Denneberg of Krantz and Bart started a new training program for engineers, consultants and end users on the technologies of thermal off gas treatment.  Topics discussed were the diverse techonogies, the selection criteria, the possibilities for upgrading existing units and the role of exhaust air treatment in the energy transition. Special attention was given to the role of electrical heating in off gas treatment systems.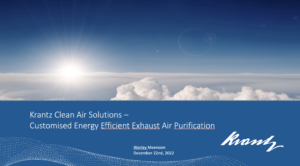 We were very warmly received at Worley in Meerssen to give the first training to a diverse group of engineers and project managers. It went well and the feedback was very positive. Thank you for having us, it was a pleasure!
Are you interested in a training about thermal off gas treatment? Want to learn more about the different technologies and how to design a real energy efficient and modern exhaust air treatment system? Contact us for more information!
Finally on behalf of the whole team at BM Process Management thank you to all clients and partners for your trust and positive cooperation. We wish you a merry and blessed Christmas time with family and loved ones, and a great and positive new year in good health.
Also in 2023 we are happy to provide you with services and know-how for your projects.
See you in 2023!
Bart, Marco, Frank & Björk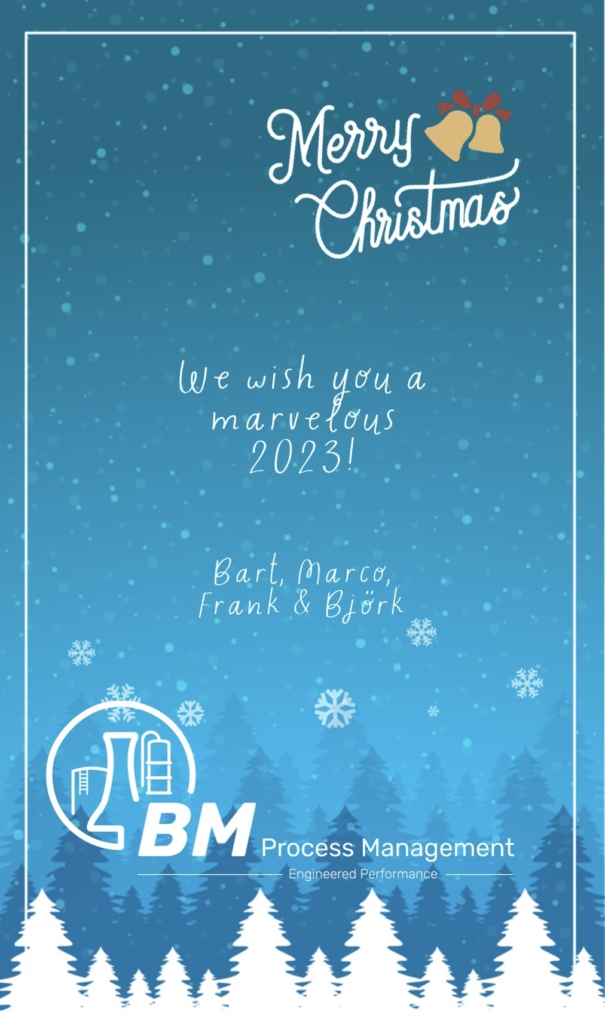 Feedback, questions or interested in a conversation?
I look forward to hearing from you. Feedback or questions on my services, website and projects are always welcome. Do you have an engineering challenge, are you looking for a consultant with whom you can have a conversation on the questions you have: do not hesitate to contact me. I will take the time for you, and do my utmost to help you with any challenge at hand. And that's a solid promise.