hydrogen instead of natural gas
Future-ready off gas treatment

Green hydrogen is an important climate-neutral energy carrier of the future. This also applies to thermal oxidation. Our tests with Krantz RTO technology show how successful hydrogen operation can be!
Following the energy optimisation of the exhaust air collection and the development of efficient systems for energy recovery, the Krantz developers are now also answering the question of sustainable primary energy.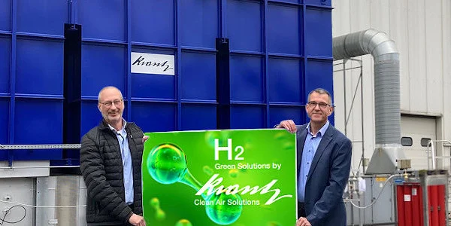 Very satisfied with the results: Achim Derdak, Technical Manager KSK Industrial Painting and Stefan Gores, Manager Krantz Clean Air Solutions after the tests in Geilenkirchen.
The Krantz team executed real-life tests in an RTO at a client's site. The practical tests that we executed clearly show the advantages of hydrogen over natural gas. When operating a Krantz RTO with low solvent concentration in the exhaust air, natural gas was completely substituted by hydrogen. In contrast to natural gas, hydrogen burns without CO2 emissions and minimises the CO2 footprint of exhaust air purification. The purified exhaust air is largely free of carbon monoxide and nitrogen oxides. It also meets the strictest emission limits.
The new technology can easily be implemented in new and existing plants. With green hydrogen, thermal exhaust air purification remains the cleanest and most energy-efficient VOC purification technology.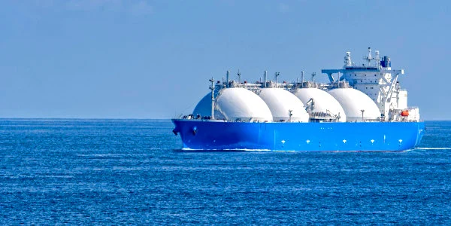 In the energy mix of the future, green hydrogen is firmly planned as a CO2-neutral energy supplier for process heat. The tests of H2 production and grid feed-in are running successfully. The newest LNG terminals that are under construction are H2-capable.
We would be happy to explain the possibilities your plant and process in a personal discussion. Feel free to contact us via bart@bmprocess.nl, or visit Krantz Clean Air Solutions e.g. at the Krantz stand at the ICE Europe in Munich.

Feedback, questions or interested in a conversation?
I look forward to hearing from you. Feedback or questions on my services, website and projects are always welcome. Do you have an engineering challenge, are you looking for a consultant with whom you can have a conversation on the questions you have: do not hesitate to contact me. I will take the time for you, and do my utmost to help you with any challenge at hand. And that's a solid promise.